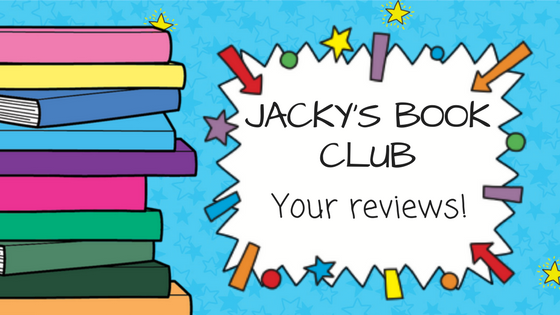 See what our Star Reviewers thought of Jacky's book club picks this month!
These lucky readers entered the prize draw in issue 133 and each won a copy of either Four Children and It by Jacqueline Wilson or The Nothing to See Here Hotel by Steven Butler.
Read all about why Jacky chose these books for the book club in issue 138 of The Official Jacqueline Wilson Mag on sale now! The issue features quotes from all the reviewers featured here.
The Nothing to see Here Hotel by Steven Butler
Charlotte's Review
I really enjoyed learning about Frankie, his family and the guests at The Nothing To See Here Hotel.
The story was unusual, surprising, fun and different from anything I have read before!
I especially loved that Steven Butler made up lots of new words.
My favourite characters were Mum, Dad and Frankie as they were all so kind to the guests at the hotel.
I would love a pet dragon just like Hoggit, although I'm not sure my cat Harry would like it.
The illustrations by Steven Lento were very detailed and made the characters and hotel feel real.
I would love to read more stories about The Nothing To See Here Hotel and its unique guests.
I am a big fan of Steven Butler because I read the Dennis the Menace Diaries.
Charlotte, Stirling
---
Bethany's Review
This book got me excited from just looking at the bright and colourful cover. It made me imagine what was to come and how the characters and hotel would look. The magic of the hotel, the characters and the fact that Frankie's Granny is a troll made me want to keep reading as soon as I picked up the book.
The story is about a very demanding Goblin Prince coming to the hotel with all his crew. Every page in the book made me smile and I laughed whilst reading it.
My favourite sentence in the book was, "The poor bird stops in mid-air, then squawks off in a whirl of feathers, looking more confused than a T-Rex in a tutu."
My favourite character was Frankie but I also loved the chef because she was a giant spider. Another sentence I really loved was, "Before I even had time to think about wetting my pants with fear, Nancy looped a silky strand of web over the bannister and, just before we ran SMACK into the petrified impolumps, she JUMPED!"
The hotel is full of magical and extraordinary characters who all enchant you and make you want to read more.
I really hope there is another book to follow on with a new adventure at the Nothing To See Here Hotel as I think this book is amazing and all my friends will love it.
Bethany, Lostwithiel
---
Emily's Review
A really good read with lots of humour and a great plot. I loved The Nothing to See Here Hotel, a 5 out of 5 from me! You can see the characters in your mind because they are described so well. There are great illustrations and amazing writing. When a royal guest arrives at the Nothing to See Here Hotel everything dissolves into chaos. But is the goblin prince hiding a secret? There is always drama at the hotel for magical creatures.
The only problem about this book is you can't put it down! It makes you feel like you are at a hotel with all sorts of creatures like a were-poodle, a cyclops and some living bones! My favourite characters were Mrs. Venus, Nancy the spider and Frankie Banister. My favourite part was when Prince Grogbah tried to go to the beach because it made me LOL!
Emily, Greetland
---
Olivia's Review
I was really excited to get my book, The Nothing to see Here Hotel, and couldn't wait to get started.
The characters are Frankie Banister, Nancy, Mum, Dad, Granny Regurgita, Prince Grogbrah, Captain Plank and Tempestra.
My favourite character is Franke Banister because of the way he told the story. I didn't like Price Grogbrah because of his behaviour.
It surprised me when Frankie said his granny is a troll as I thought Frankie and his family would be grumpy.
Frankie Banister and his family were running the Nothing to see Here Hotel when a letter came and the hotel was never the same UNTIL…
I found the story very interesting, fun and it had a lot of strange goings on!
I could picture the hotel whilst I was reading the book. It was a little bit creepy but I would love to be a guest there. I'd love to meet Nancy too.
My favourite sentence was, "Get lost you chubsome chunker" because it made me laugh.
I really liked the theme of the story as it showed that a story doesn't have to be about normal creatures and if you use your imagination you can picture anything.
Overall I give this book a 10/10 and I'm looking forward to reading the next one.
Olivia, Shrewsbury
---
Alice's Review
Such a fun hotel, mostly invisible to humans but mostly visible to magical creatures. I loved this book; totally five stars!
I loved the first line – "let's talk about grandma's" – and I couldn't wait to carry on reading more… "My granny is a troll!" I loved these sentences. Also later in the book when Tempestra hissed, "PREPARE to die' The magical creatures were amazing.
A fabulous book.
Five stars!
Alice, King's Lynn
---
Four Children and It by Jacqueline Wilson
Holly's Review
This book is wonderful and very good. The main character in this book is a girl called Rosalind. She and her brother Robbie, step-sister Smash and little half-sister Maudie go on picnics in Ockshot woods where they find something magical.
Once they have eaten their picnic they go and play in the sandpit nearby. On the first picnic they discover a Psammead in the sandpit. They find out that he can grant wishes!
The Psammead is immensely old and comes from the times of dinosaurs. So sometimes he is quite grumpy. If anyone asks for a wish he just puffs himself up and their wish is granted.
The children in this story find that having their wishes is fun so go back for more. They wish all kinds of things like: being rich and famous, seeing people from the past, for nursery rhyme people to see them, but best of all they wish to fly which is truly amazing.
I think that this book is very enjoyable and good fun to read. My favourite part is when they wish to fly because it is just so wonderful.
I would give this book 4 out of 5 stars and would definitely recommend it to others. I would read it again because I loved it and enjoyed it lots.
Holly, Stowmarket
---
Jemima's Review
This book is about four children (Rosalind, Robbie, Smash and Maudie) who find a strange, furry creature in a sandpit at Oxshott Woods, with magical abilities to grant wishes. It has to be a secret though, because who knows what might happen if anyone else finds out…
You should read this book if you like adventure, magic and excitement as this novel would be a perfect book to curl up with. The description creates a vivid picture in your head and you can imagine Oxshott Woods really well. The storyline isn't simple, but it's not complicated –
it surprises you with twists, especially at the very end. It hooks you in from the first sentence all the way to the last word; I could read this book upside-down, back-to-front, hundreds of times and definitely NOT get bored! I like the way each chapter links together, even if some are completely different.
It shares some similarities with other books by Jacqueline Wilson, like The Monster Story-Teller, Glubbslyme and The Dinosaur's Packed Lunch. However, it wasn't the same as some of the other stories, like Dustbin Baby or The Diamond Girls because they are about gritty real life and family problems. This has to be one of my favourite Jacqueline Wilson books yet!
Jemima, Torquay
---
Mirissa's Review
Rosalind is the main character in the book, she dislikes her stepsister, Smash, and stepmum, Alice, but loves her brother, Robbie, her dad and her younger halfsister, Maudie.
Rosalind is kind, sensible, always eager to help and a bookworm, unlike the rest of her family. Robbie is a worrier and easily frightened; Smash is very loud, naughty, adventurous and likes to be the centre of attention; Maudie is a little cheery girl.
The story starts with everyone going for a picnic. Smash makes Rosalind and Robbie climb a tree which upsets Robbie. Next they make a sandcastle where they meet a strange creature called Psammead. Rosalind's realises Psammead is from a book she has read.
Psammead grants Robbie his wish to be a better tree climber than Smash which works.  Smash is not happy and very jealous. When Robbie's wish wears off at sunset, Smash is granted her wish for them all to be famous. Rosalind becomes an author and Smash a singer, again the wish wears off and they get stuck in the O2 which really upsets dad and Alice.
Psammead grants Rosalind's wish of meeting her favourite book characters from Five Children and It, taking them into the Edwardian era where they have a great time, but this ends at sunset. Rosalind wished she could have stayed in the Edwardian time forever and to her shock the wish is granted, she gets trapped in the past and put in a horrible Edwardian workhouse. Smash somehow saved Rosalind and they then start to accept one another's differences and become friends. More wishes are granted to the kids which brings the family as a whole together.
I really enjoyed reading this book – it was well written and thought out. Like Rosalind, I also wasn't keen on Smash's character but warmed to her as the book went on as she really isn't just annoying!
Mirissa, Thurso
---
Greta's Review
Four Children and It is an amazing book by Jacqueline Wilson. I couldn't put it down! I read it at ice-skating, at playtime at school, at a dinner with friends and in the car.
It was described in a lot of detail. I pictured all the scenes with no trouble at all.
It is about two children who spend their holiday at their dad's house with their stepsister and their half-sister. They go on a trip to Oxshott Woods and find a Psammead (or sand fairy) who grants wishes for them. They all love the holiday, wish for amazing things and barely ever fight.
My favourite character is Smash because she loves gymnastics and tree-climbing. She loves it when she flies when they wish for wings. The only thing I don't like about her is she is very negative and is very mean to Rosalind and Robbie. She is only nice to little Maudie which is unfair.
If I met a sand-fairy I would wish to meet Jacky and the children in the book. I would recommend it to people who love fantasy stories or who need to find the positive things in everyday life.
I rate it 5/5! Dear Jacky, please write a second one about Four Children and It.
Greta, Matlock
---
Phoebe's Review
Four Children And It is an absolutely five star book. It is based on E. Nesbit's original tale called Five Children And It. Rosalind Hartlepool (one of the main characters) narrates this modern story and it is very clever because at the end, she writes the story in her own notebook.
Rosalind and Robbie's parents don't live together any more. Their dad is now with elegant Alice and he has to help look after Alice's daughter Smash and their new little girl Maudie. One summer, when the Hartlepool's mother goes to summer school, they have to try and survive a whole holiday with their dad's dreaded new family. They think putting up with Smash's taunting for all that time will lead to the worst few weeks of their lives.
On a last minute picnic to Oxshott Woods, the four children discover a golden sandpit. It seems normal enough but when they look further they realise it is home to the ancient Psammead! The Psammead is a sand fairy who is thousands of years old. He is quite grumpy and only seems consistently fond of Maudie. The children are over the moon when they know that all of their desired wishes can be granted. It is only worrying Rosalind who knows that the wishes will go wrong more often than not.
Almost every day, the four adventurers get a wish granted and have opportunities like being rich and famous, having plastic animals come to life and being able to fly. They always seem to end up in a bad situation though!
I think that this is a truly exceptional book. The plot had so many little twists and turns, and yet it was not a complicated read. I loved how strong the characters were. I would recommend it to fans of classics.
Phoebe, Manchester
---
What did you think of these books? Comment down below!