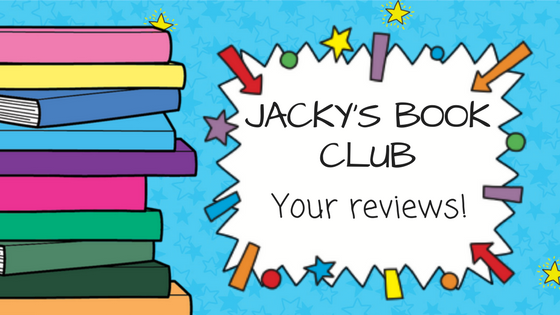 Read these reviews to see what our Star Reviewers thought of Jacky's book club picks this month!
Congratulations to all of our Star Reviewers! These lucky readers entered the prize draw in issue 132 and won a copy of either Vicky Angel by Jacqueline Wilson or Running on Empty by S.E. Durrant.
Read all about why Jacky chose these books in issue 137 of The Official Jacqueline Wilson Mag on sale now! The issue features quotes from all the reviewers featured here.
­­­Running On Empty by S.E. Durrant
Gracie's Review
I think Running on Empty is a really good book I have never read a book by this author (S.E Durrant). I can really picture the setting from the descriptions. There is a sentence I really like – it is the one that says, "My brain feels like scrambled eggs."
I think the whole story is a combination of sadness and cheerfulness. Two of my fave characters were AJ's best friend, Crystal, and his little cousin Aisha because Aisha is so cute, especially at Halloween and Crystal is just wow.
And I think it was very sad how AJ's parents have learning difficulties. It is sweet how AJ looks after and does everything for them.
It is really cool how he can run really fast. By the end of the book, I feel that AJ changed because at the start he didn't have much confidence in himself but at the end he had quit a lot of confidence, which was good to see.
I think "it is a story of family, friendship and trainers," is my fave part in the blurb. The blurb makes you want to read the book. And after the first page it made me want to read more. Even after the first sentence which is "The most amazing thing I ever saw was Usain Bolt winning the 100 metres at the London Olympics." It makes you want to know who Usain Bolt is and well there is a lot of things you want to know so after that you get drawn into the book.
Gracie, Dundee
---
Lia's Review
This heart-warming story follows the tale of AJ going to high school. His parents have learning disabilities and shortly after his Grandad dies, AJ decides they are his responsibility. The story explores growing up, friendship and forgiveness. The book is full of laughs and surprises. AJ is also really good at running, so will he make it to the school running tournament?
My favourite character is Aisha because she is bubbly, funny and cheeky. S E Durrant is very good at the description of the setting as you feel like you are there. Running on Empty, an emotional story of family (and trainers!), will have you hooked until the end. Overall, Running on Empty is a booktastic story which is fun, gripping and I would recommend it to anyone who loves reading.
Lia, Wigan
---
Olivia's Review
I love books. It's my favourite thing to read. I recommend any of you to buy Running on Empty – it hooks you to the finishing line. It's quite a sad book but you will still enjoy it.
I don't want to give out any spoilers but I'll tell you somethings. It's set in modern day period about a boy whose parents have learning disabilities. Luckily the boy always looks after them and they stick together but it is hard for the boy at times. It is about growing up and having to act like an adult when you're still a child. The boy loves running and he's really good at it!
Out of five stars the book is 5 and out of a percentage it is 100%. It's double times better than lots of other books I've read.
Olivia, Hessle
---
Lauren's Review
Running on Empty is one of my favourite books now! It has a truly inspirational message and motivation – you should always follow your dreams!
I felt as though AJ and Crystal and Aisha were alive and putting on a movie especially for me. It felt like I was INSIDE the book, getting into cake fights and watching Usain Bolt racing in the Olympic Stadium! My favourite character has to be Harvey, who reminds me a little of a boy I met at summer camp!
This book makes you want to read on and on and on! It is a bit of a sad story to begin with, especially for AJ's family, but things work out towards the end of the book!
In the book, AJ says, "I am sure we all have someone like Amit in our class." I am very, very sure we do! Amit is a right show off but during one of the P.E lessons he seems to come across nicer.
I am glad S.E. Duran gives AJ's parents learning disabilities, as I believe lots of adults nowadays don't like mentioning disabilities to children! I have no idea why! In every school, there is at least one child with some problem!
Anyway, if you're looking for a book to read when you're bored then go to the nearest bookshop and buy this new adventure of a boy who is determined to fulfil his dreams. Nothing can stand in his way!
Lauren, Houghton
---
Vicky Angel by Jacqueline Wilson
Keeyah's Review
When Vicky, a happy, cheerful and independent schoolgirl, dies tragically in an accident, she returns as a ghost only visible to best friend, Jade. At first they are happy together but Vicky grows resentful and controlling because Jade can do things she never can again. It's only when Jade's life is in danger that Vicky learns to help her best friend and gains a new level of freedom.
Unlike many other Jacqueline Wilson books, this one has elements of fantasy. Even though many bits are not true, it is written in a style that makes it very believable. I found a lot of this book quite sad but I really liked the way the story ended.
Keeyah, Andover
---
Erin's Review
Vicky Angel is a thrilling, gripping book which will hook you in from the very first line.
The characters were very inventive and imaginative, many of them with big personalities. Jade, who the story is in the perspective of, is often sad, quiet and timid. However, she is also bright, mature and sweet. Vicky, who is Jade's best friend forever, is sparky, crazy and fun. However, she also becomes big-headed and vain. Jade and Vicky are a classic example of opposites attract, due to their obvious contrast in personalities.
During the story, after Vicky has a tragic accident, Jade feels as though half of her soul has been taken from her since she was so close to Vicky. However, Vicky comes back to haunt Jade. At first, Jade loves this and hates when she goes away to other places but, eventually, Jade becomes tired of Vicky and wants to start living a fresh life, not be haunted by her past. Jade feels as though Vicky is in control of her every move, and Vicky is constantly spiteful to her, makes her do things which are out of her character and, most of all, takes Jade for granted and just assumes that she will do anything she says. They both have lots of exciting adventures together.
I found both the first and last chapters of this story extremely dramatic! Jacqueline covers many themes, including: death, friendship, super-naturals and growing up.
This book was written in a unique style, with many interesting sentences. My personal favourite sentence was: 'She flaps wings as white as swansdown, waves one last time, and flies away.'.
I would recommend Vicky Angel for JW fans aged 10+ and would give it 4.5 stars. I will be telling all my friends to read this book next!
Erin, Gillingham
---
Caitlin's Review
I thought Vicky Angel was very emotional from the very beginning when Vicky lays on the road unconscious and Jade is running towards her. The best bit was when Jade and Fatboy Sam are at the Fun Run Club and they become mates. Also, when Mrs Wainwright helps Jade about her feelings.
The plot and the twists and turns were quite dramatic and I didn't want to put the book down! I thought Jade was going to be sad all the time and she was, well mostly, and she seemed quite annoyed with Vicky there all the time but happy that she was still there for her.
Vicky's family kept acting happy but inside they were actually annoyed with Jade for letting her do this to Vicky, especially after Vicky's funeral when Vicky's mum shouts at Jade for coming into her kitchen!
I pictured the settings very well the way they were described all the way through the book. At the hospital, I thought the settings were very descriptive and decorative with Nick Sharratt's drawings!
The style was very unusual but very unique! One of my favourite parts was when Jade brings in photos of Vicky and talks about her in a really loving way to Mrs Wainwright.
I would definitely recommend this book to all Jacqueline Wilson fans!
Vicky Angel was very angelic!!!
Caitlin, Rushden