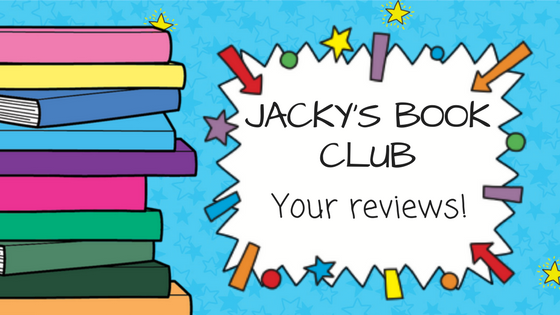 See what our Star Reviewers thought of Jacky's book club picks this month!
These readers entered the prize draw in issue 130 and won a copy of either The Illustrated Mum by Jacqueline Wilson or Do You Speak Chocolate?  by Cas Lester.
Have you read these books? What did you think of them? Let us know!
Read all about why Jacky chose these books in issue 134 of The Official Jacqueline Wilson Mag on sale now, and see quotes from all the reviewers featured here. You can also find out how to enter the prize draw to be a Star Reviewer yourself!
The Illustrated Mum by Jacqueline Wilson
Gemma's Review
I enjoyed reading The Illustrated Mum by Jacqueline Wilson. Although I found the beginning storyline quite hard to get into, it was a very interesting book.
Marigold is Star and Dolphin's mother and is covered in tattoos from head to toe. She goes out a lot; leaving them alone while she is getting drunk and coming back in the early hours.
I was surprised by the exciting and unexpected twists throughout which made it fun to read. I think that Marigold's character changed considerably by the end of the story from selfish and drunk to kind and caring.
Jacky described the settings really well as I was able to significantly picture each destination.
I think that this book explores themes like ways of parenting and growing up with siblings.
Overall, I would rate this book five stars as it is excellently written with such an interesting storyline and character descriptions. I would recommend this book to anyone over the age of 10 as I feel it had some mature content which younger readers may not understand.
Gemma, Ashby-De-La-Zouch
---
Klara's Review

I give the theme four stars. The book explores the relationship between Marigold, a mum who likes to party and is afraid of getting old, and her two daughters Star and Dolphin.
I give the characters four stars. My favourite character is Star, because she cares for Dolphin, is kind to her and tries to stop her from getting her feelings hurt.
I give the style four stars. I really enjoyed the way the book was written. The story is told by Dolphin from her point of view, rather than by an outsider looking in.
I give the plot three stars. Marigold really likes Micky (Star's dad) but he lives in Brighton and has a new girlfriend. He also thinks Marigold is loopy and reckons she needs to go to a hospital! Star sometimes goes to stay at Micky's house which makes Marigold go crazy and poor Dolphin ends up looking after her and dealing with the consequences.
The book also shows that Mums like Marigold might sound fun to be around, but can actually be really hard to live with.
Overall, I give The Illustrated Mum four stars because I liked it, but it wasn't my favourite JW book!
Klara, Hythe
---
Carys-Ann's Review

The Illustrated Mum is cleverly written from the perspective of Dolphin who is the youngest daughter of tattoo-covered Marigold Westward and little sister of beautiful Star.
I like the fact that from the very first chapter, you know quite a bit about the characters, how they react to changes and as soon as you start reading the book, you can picture the scene and characters.
I have read this book for the first time and would definitely recommend it to readers specifically in the older range (about 9+) depending on the reading level. Throughout, I have had mixed emotions; parts making me smile and parts making me sad.
The book was great, heart-warming and had a theme of (mostly) growing up. I was gripped right from the start of the blurb!
The story changed my view on the characters from start to finish, so, if you're going to read this book, don't be quick to judge!
The characters in The Illustrated Mum were determined, kind, caring and loving. Perfectly, Jacqueline Wilson portrays it so that when a character (or more than one at a time) changes their view or feelings about something, you can tell almost immediately.
Once I picked this book up and started reading, I got so gripped I just couldn't put it down.
Carys-Ann, Wimborne
---
Evie M's Review
My favourite character in this book is Marigold. I like Marigold because she is really crazy!
I like the part where Marigold paints herself white because, even though it was really bad, it was also quite funny!
I would recommend this book to all of you reading my review. The Illustrated Mum is a very funny, great book.
It was Marigold's birthday. She went out that night. She didn't come back until Dolphin and Star got home from school the next day. To make up for it, Marigold made Angel biscuits and cake. Star still wouldn't forgive her though.
What other things will Marigold (The Illustrated Mum) do next? Find out by reading the book.
Evie M, Bolton
---
Do You Speak Chocolate? by Cas Lester
Lucy's Review
I really enjoyed reading Do You Speak Chocolate? by Cas Lester and would highly recommend it to girls from the age of 8. I particularly enjoyed the short chapters as it was easy to pick up and read for a short time but feel you had read more.
The story made me want to just read and read as it was a great plot with interesting characters. Jas and Nadima's friendship was a rollercoaster ride of good and bad times at school and at home. The story also made me realise that people from different backgrounds and countries, in this case Syria, are going to be as good a friend as any that you may have grown up with. It was interesting to read a story about a Syrian girl as Syria is in the news a lot and will be of interest to many readers.
During my time reading the book, I imagined what it would be like to be Jas and have a friend like Nadima and also to lose other friends due to this new friendship. I found myself being able to picture in my head all the settings and what the characters looked like!!!
Jas and Nadima changed a lot from the start to the finish as their friendship progressed. Jas became aware of her behaviour and that Nadima was a good influence on her and Nadima was able to speak very good English by the end.
A particular page that stood out for me was page 145 as it had some Kurdish language on it and I found that extremely interesting. I have enjoyed this book very much and look forward to reading more and hopefully another story about Jas and Nadima.
Lucy, Yeovil
---
Amelie's Review
The story surprised me with twists and turns. It's about a girl called Nadima who is from Syria. She moves to England and tries to learn English. Jaz is a girl who is in the same class at school, and they become friends. As the story progresses, the girls fall out. For example, Jaz gets both of them into trouble and they end up in detention. However, by the end of the book I was pleased that Jaz and Nadima were friends again. Kara's is another girl in their class. Her character changes from being unkind towards Jaz to being a friend by the end of the story.
I really like the title of the book, "Do you speak chocolate?" It is an unusual title and made me want to read the book and find out more. The author describes the ups and downs in friendship very well in this book. I thoroughly enjoyed reading this story, so much, that I read it in three sittings. I would strongly recommend this book to my friends.
One of the best parts in the story is when Kara gets upset that she has to put her mean stepdad on her family tree. Another interesting part is when Nadima puts a lot of names on her family tree and then explains that they are all dead because they lived in Syria and they were bombed. I also enjoyed reading about when Nadima goes to Kara's party and there are fireworks. Nadima thinks that the fireworks are bombs and starts running around and screaming.
My favourite character is Kara, probably because I am a little bit like her; she makes drama out of everything!
Amelie, Ripley
---
Evie B's Review
The story didn't surprise me a lot so, in my opinion, it was a straight forward story but I still can't believe that Nadima did it in end.
I think the only person in the story that really changed is Nadima. She changed a lot from being the new kid and not speaking English. She has changed a lot because, like I said Nadima, did it in the end. But when Jaz said 'do you speak chocolate' they found a way to communicate with each other.
To me, it didn't give much setting description. The thing that I could picture was Nad and Jaz at Morden house.
I loved chapter 10 EMOJIS as Jaz knew that she couldn't communicate using chocolate or English while texting her so she uses EMOJS to communicate and Nadima did understand!!!
There's one more bit in Chapter 11 when Chloe hands out her invitations and they're covered in pink sparkles and glitter and Jaz said 'that girl should have a permanent glitter warning.' It made me laugh a lot.
The author explains perfectly how Nadima and Jaz's friendship is different in a good way. The author explains Lilly and Jaz like each other but Kara and Jaz hate each other, leaving Lilly in the middle of them. But Jaz goes off with Nadima and Lilly goes off with Kara.
Along with the book itself, the blurb really intrigues me a lot. In my opinion, I would give this book a seven-and-a-half, so a fairly good book but I've read better books like Wave Me Goodbye by Jacqueline Wilson that kept me intrigued till the very last word of the book as this did not achieve in my opinion.
Evie B, Ledbury
---
Kate's Review
Do you speak chocolate? by Cas Lester is a brilliant read and I thoroughly recommend for people from age 9-12 to read it.
It is about a girl called Jaz who makes friends with a refugee, named Nadima. It tells you about the heartbreak and struggle of war in Syria. Jaz is delighted to have found a new friend but the only problem is Nadima does not speak any English.
It reveals how they cope and get through it all, with a strong friendship to guide them. Jaz makes a few mistakes along the way but, all in all, they manage everything. And here's where the chocolate comes in. At first, Nadima and Jaz can't talk to each other, so they share chocolate at break and lunch. But that's not it! If you read it you'll find the true background of it all.
Kate, London
---
Congratulations to all our Star Reviewers!