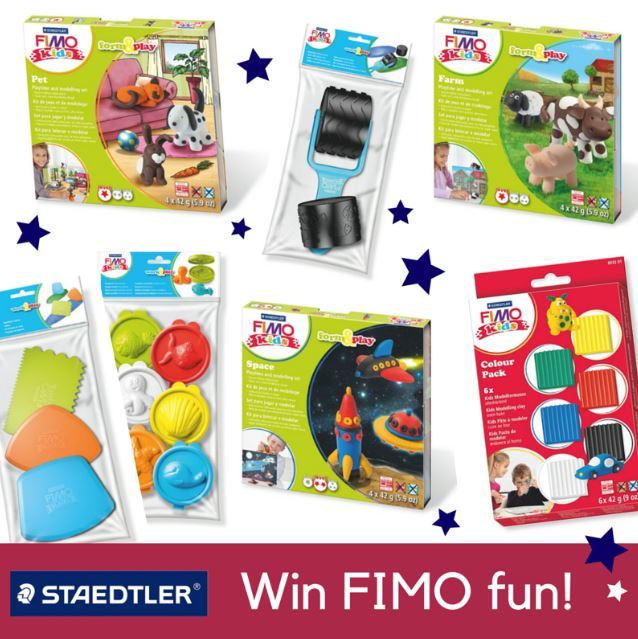 Boredom starting to kick in over the summer holidays? Get creative with FIMO from STAEDTLER for hours of modelling and shaping fun! We've got a giant bundle of FIMO prizes up for grabs, courtesy of our friends at STAEDTLER. One lucky winner will get all this:
3 x FIMO kids form and play sets
FIMO kids motif roller
FIMO kids cutting tools
FIMO kids mould
FMO kids colour pack
***Visit http://www.staedtler.co.uk/en/ to see STAEDTLER's amazing range of FIMO and stationery, or click HERE to check out their Facebook page!***
HOW TO ENTER
To be in with a chance of winning this fabulous prize, simply answer the following question…
Which JW book do the characters Treasure and India appear in?
A) Katy
B) Queenie
C) Secrets
***Send your answer, along with your full name, age and address to comps@jw-mag.com***
Put 'FIMO FUN' in the subject line.
The competition opens at 6.00am on Wednesday 22nd July and closes at 10pm on Tuesday 28th July. The winners will be announced on the website shortly after the closing date, and on our Facebook and Twitter channels. Only one entry per person.
Good luck!
TERMS AND CONDITIONS
Win Wednesday FIMO fun Competition
By entering the Competition each entrant agrees that they have read, understood and agreed to be bound by these terms and conditions (the "Terms") (including any entry instructions).
Promoter Details
The Promoter of the Win Wednesday FIMO fun Competition (the "Competition") is D.C. Thomson and Company Limited (a company registered in Scotland with company no. 5830) whose registered address is at 2 Albert Square, Dundee DD1 9QJ ("DCT").
Entry Requirements
The Competition is open to all individuals.
Entrants must have the consent of a parent or guardian over 18 to enter the Competition.  DCT reserves the right to obtain proof of such consent and to refuse entry or to choose another Winner if such proof, where requested, has not been given.
The Competition is free to enter and no purchase is necessary. Multiple entries per person are not permitted.
Employees of DCT and their families and anyone else who is in any way connected with the Competition may not enter. Any such person attempting to enter shall not be eligible to win and their entry shall not be counted.
DCT accepts no responsibility for entries that are delayed or which are not received for any reason and also has no liability in respect of any incomplete entries that are received. Incomplete entries will not be counted and will be discarded. DCT has no responsibility to inform any entrant that their entry is incomplete and not valid for entry to the Competition.
DCT is not liable for any associated cost to entrants of entering the Competition.
DCT do not accept any responsibility for network, computer hardware or software failures of any kind, including (without limitation) those which may restrict or delay the sending or receipt of an entry.
In entering the Competition entrants warrant that all information they submit is correct and not obscene or offensive or otherwise in breach of any third party rights and DCT reserves the right to verify the eligibility of all entrants. DCT reserves the right to disqualify any entrant from the Competition if it believes (in its sole discretion) that such entrant has breached any of these Terms.
To enter the Competition, entrants must email to comps@jw-mag.com
the answer to the question
their name, age and full address; and
a contact telephone number and email (if available) for their parent or guardian to enable DCT to obtain proof of consent.
Prize
The Winners will win three FIMO kids form and play sets, a FIMO kids motif roller, a FIMO kids cutting tools, a FIMO kids mould and a FIMO kids colour pack.
Selection of winner:
Winners (the "Winners") will be selected from all Competition entries by representatives of DCT and an independent judge.
The prize will be sent out directly to the address provided.
The Winners' names and counties will be announced on the JW Mag website shortly after the closing date.
After July 29th, 2015, entrants may write to DCT at the address above requesting that they be provided with the Winner's name and county of location.
The judges' decision is final and binding in all matters regarding the Competition (including in the event of a dispute) and DCT will not enter into any correspondence or discussion with entrants.
General
DCT reserves the right to cancel the Competition and/or amend these Terms, including (but not limited to) changing dates or prizes, for any reason without notice and cancellation or amendment. Any changes will be posted on www.jw-mag.com.
DCT accepts no responsibility for any costs or expenses incurred by the Winner or their parents or guardians in connection with the Competition.
To the extent permissible under applicable law, DCT shall not be liable to any entrant or the Winner (and/or any guest or parent/guardian as applicable) for any loss or damage howsoever caused (whether in contract, tort (including, without limitation, negligence) statutory duty or otherwise) arising out of or in connection with the Competition.
Entrants (including the Winner) shall not do anything that could damage or harm the reputation of DCT, Official Jacqueline Wilson Magazine or any products included within The Official Jacqueline Wilson Magazine.
The Competition is governed by English law and any disputes arising in connection with the Competition and/or these Terms will be subject to the exclusive jurisdiction of the courts of England and Wales.
Use of Data
The Winner agrees that DCT may use their entry, photo, image, name and likeness to publicise the Competition, in any and all media that DCT desires.
The Winner agrees to take part in such reasonable Competition-related publicity as DCT may require and accepts that DCT may publicise images/statements in connection with/resulting from this Competition.
DCT may use data supplied by entrants to contact entrants in relation to other competitions it runs or to market products or services it believes may be of interest to them.
Entry into this Competition shall constitute consent to the uses of data contained in these Terms.
If, at any time, entrants no longer wish to be contacted by DCT, they should contact DCT at privacy@dcthomson.co.uk. DCT will always use and keep personal data in accordance with its Privacy Policy which can be found online at /privacy-policy. This outlines the basis on which DCT will process any personal data it collects from entrants or that entrants provide to DCT. Please read this carefully and if entrants have any questions, or would like to request a paper copy of the policy to be sent to them, contact DCT at privacy@dcthomson.co.uk